Commercial Electrical Contractors Serving the Dallas – Ft. Worth Metroplex | Specializing in Cost-Effective Lighting and New Construction Solutions
---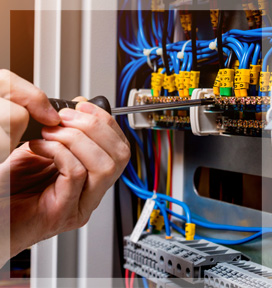 From small family businesses to large warehouses and office buildings, our team is the safe and reliable choice for all of your electrical needs.
Whether you are a small business owner, the CEO of a large corporation, or overseeing the construction of a new commercial property, at Hawes Electric Service, we understand that time is money. That's why you can count on us to provide prompt, efficient, and reliable service that will minimize downtime and eliminate scheduling conflicts. From large warehouses and office buildings to modest commercial storefronts, we put our full effort and expertise into every job.
Electrical Services Provided:
Emergency Generator Installations
Office, Warehouse & Parking Lot Lighting
Machinery & Equipment Hookup & Repair
Motors & Controls
New Construction Electrical
Design-Build Electrical
New Tenant Build-Out Electrical
New Wiring for Remodels
Value Engineering
Electrical Wiring for New Construction & Remodels
Whether it is a new building, or a remodel of an existing property, Hawes Electric can provide the electrical wiring and lighting services for any commercial construction project. As a licensed and insured new construction electrician with over 60 years of experience, you can feel confident that your property's electrical wiring will meet and exceed all standards for safety and quality. Our team has an exceptional reputation in the Dallas area, and we are always happy to provide references upon request.
---
Emergency Generator Installation & Maintenance
When disaster strikes and the lights can go out, it doesn't mean that all work can always be put on hold! In these situations, an emergency generator can keep your business open and operating with zero interruption. Let our team assess the needs of your business or commercial property and recommend a suitable emergency backup generator that will supply the power you need when the power lines fail. After a thorough assessment, the licensed electricians at Hawes Electric Service will make sure to provide a safe, reliable installation for your emergency generator system that you can count on in the harshest weather situation. When you work with Hawes, you can be confident that all electrical codes will be followed, as well as plumbing codes, for the necessary fuel and power connections.
---
For safe and reliable electrical solutions from a licensed and insured electrical contractor in the Dallas – Fort Worth, Texas area, contact Hawes Electric. We offer a complete range of electrical repairs, upgrades, installations, and more for homes and businesses of any size!